2022 NAGC
2022 North America-Greece-Cyprus Conference
Ayia Napa, Cyprus – May 9-13, 2022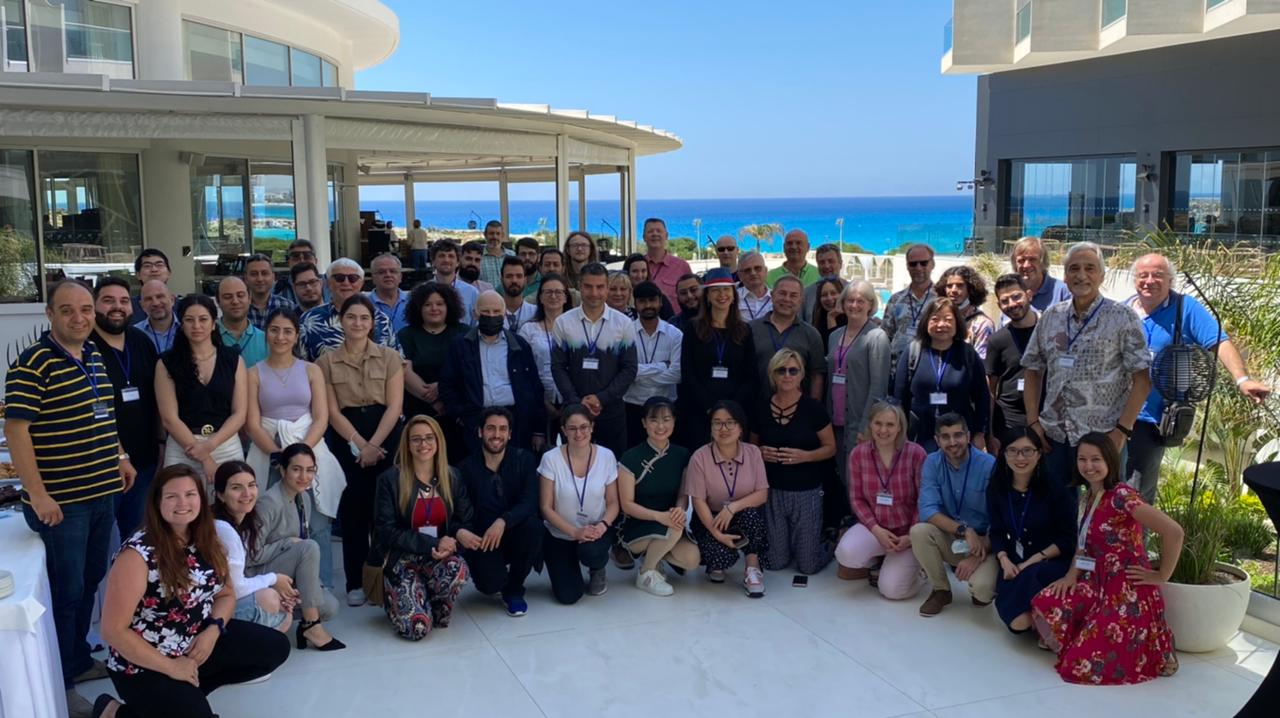 From April 18, 2022, Cyprus is greatly relaxing its covid rules for visitors to the island, especially for fully vaccinated persons. For full details, see here.
Accepted Speakers (bold indicates confirmed attendance)
Student/Postdoc Speakers:
Yasser AlWahedi, Abu Dhabi, UAE
Basia Andraka-Christou, Florida, USA
Talal Balalaa, Abu Dhabi, UAE
Jesper Bendix, Copenhagen, Denmark
Hai-Ping Cheng, Florida, USA
Stelios Choulis, Lemesos, Cyprus
Sotirios Christodoulou, Nicosia, Cyprus
George Christou, Florida, USA
Kim Christou, Florida, USA
Selvan Demir, Michigan State, USA
Matthias Driess, Berlin, Germany
Chryssoula Drouza, Lemesos, Cyprus
Mohamed Eddaoudi, KAUST, Saudi Arabia
George Froudakis, Crete, Greece
Dimitris Gournis, Ioannina, Greece
Sotiris Hadjikakou, University of Ioannina
Steve Hill, NHMFL, USA
Grigoris Itskos, Nicosia, Cyprus
Piotr Kaszynski, Lodz, Poland
Anastasios Keramidas, Nicosia, Cyprus
George Kostakis, Sussex, UK
Theodora Krasia, Nicosia, Cyprus
Richard Layfield, Sussex, UK
Theodore Lazarides, University of Thessaloniki
Lisa McElwee-White, Florida, USA
Emmanouil Manos, Ioannina, Greece
Grace Morgan, Dublin, Ireland
Nikos Panagiotou, Nicosia, Cyprus
Giannis S. Papaefstathiou, Athens, Greece
George Papavasiliou, NCSR Demokritos, Greece
Patrina Paraskevopoulou, Athens, Greece
Juan Peralta, Central Michigan, USA
Spyros Perlepes, Patras, Greece
Kathryn Preuss, Guelph, Canada
Vasillis Psycharis, NCSR Demokritos, Greece
Catherine Raptopoulou, NCSR Demokritos, Greece
George Romanos, NCSR Demokritos, Greece
Yiannis Sanakis, NCSR Demokritos,Greece
Gideon Shapiro, Pharmorx, USA
Theocharis Stamatatos, Patras, Greece
Rudi Wehmschulte, FIT, USA
Krzysztof Wozniak, University of Warsaw, Poland
Mike Zaworotko, Limerick, Ireland
Karam Assad, Nicosia, Cyprus
Konstantina H. Baka, University of Patras
Christina Banti, University of Ioannina
ChristiAnna Brantley, Florida, USA
Christian Bunker, Florida, USA
Dimitris Evagelou, University of Ioannina
Ethan Fisher, Florida, USA
Dimitris Fragkis, University of Patras
Ashlyn Hale, Florida, USA
Αndreas Kalogerou, Nicosia, Cyprus
Nareen Kumar, Limerick, Ireland
Zoi G. Lada, FORTH/ICE-HT
George Lefkaritis, Nicosia, Cyprus
Niki Mavragani, Ottawa, Canada
Panagiotis Oikonomopoulos, University of Athens
Alexios Plessas, University of Athens
Athanasia Psalti, University of Thessaloniki
Georgia Zissimou, Nicosia, Cyprus

Taxi Information
It would be preferable to book your taxi that will drive you from Larnaca airport to the Nissiblu hotel in Ayia Napa prior to the trip. We have negotiated attractive prices with a taxi company for this purpose which are:
Larnaca airport to Nissiblu hotel: 50 Euros for a taxi with a capacity up to four people
Larnaca airport to Nissiblu hotel: 65 Euros for a taxi with a capacity up to seven people
To book a taxi, you should email to: Aniou10@gmail.com with cc: NAGC.2020.cy@gmail.com requesting a taxi transfer from Larnaca airport to Nissiblu hotel indicating in the subject of your message "Conference NAGC 2022" so the company will offer you the negotiated prices. In this email you should inform the taxi company about your travel itinerary, your name and the number of guests that the taxi driver should expect. Then the taxi company will send you a confirmation email (the reservation is booked after you receive that confirmation email). The phone number of the person in charge of the taxi company (in case it is needed is: +357 99484740) and his name is Antonis. Note that you will pay the taxi driver in Cyprus after your transfer to the Nissiblu hotel is completed.
Abstract Submission
All speakers must submit an abstract (one page maximum). Use the template here. Please submit to NAGC.2020.CY@gmail.com. The deadline for submission is March 31.
Registration/Room Reservation
Complete and email the form available here by MARCH 31, 2022 to the indicated addresses to get a 10% discount on the listed prices. The room costs will increase after March 31.
Sponsored by: