Supramolecular & Cluster Chemistry:
high nuclearity complexes
We have a general interest in the synthesis of high nuclearity clusters for numerous applications. We have developed many synthetic routes to obtain a variety of high nuclearity clusters of the 3d metals V to Cu, with the largest till date being a Mn84 cluster.
The use of poly-pyridine and poly-ß-diketonate ligands with mononuclear metal centers has been the foundation of the growing area of Supramolecular Chemistry. We are combining the use of such ligands with our experience of cluster chemistry, and are investigating to what extent such ligands can: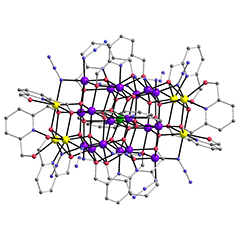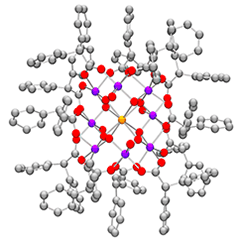 join together polynuclear metal clusters (rather than single metal ions) into supramolecular structures,
cause the formation of new polynuclear clusters not attainable with simpler ligands,
encourage formation of extremely large molecular clusters (nanoscale size) by hydrolysis and alcoholysis, and
facilitate formation of mixed-metal, transition metal-lanthanide clusters.
All of these approaches have already been successful in this project, leading to a variety of new Co8, Fe8, Mn25, Mn84, Mn8Ce and other products.